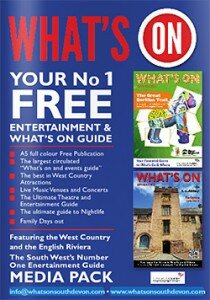 Click to view http://issuu.com/whatsonsouthdevon/docs/whatsonmediapack
What's On Magazine is a well established free A5 full colour glossy magazine published bi-monthly with all the essential information on Lifestyle, Entertainment, Live Music, Tourist Attractions, Eating Out, Night-life, Events, and what's on listings. Every edition is targeted and distributed directly into the hands of potential readers who are most likely to benefit from the content and the services that our advertisers have to offer. We have over 200 dedicated outlets within our prime target catchment area including: Exeter, Newton Abbot, Dawlish, Teignmouth, and all of Teignbridge. Totnes, The South Hams, and The English Riviera. (Torquay, Paignton, Brixham)
We appeal to all ages, and the magazine has been the most popular publication of its kind in this field. We have remained unrivalled ever since the creation of What's On Publications in 1996. The magazine's website contains up to the minute information about exhibitions, shows, and events, which are taking place across the West Country as far in advance as we hear about them.
We take great pride in the fact that the magazine has continued to host the largest amount of clients and advertisers than any other custom papers in the West Country, and we still have 75% of the clients we had over a decade ago. Our reputation is solid and consistent, as with every edition the magazine continues to grow in readership, circulation, and notoriety. We take our job with great responsibility to maintain our readership for the number one guide for locals, residents, and all the visitors we get to our beautiful region.
ADVERTISING RATES
Front Cover (Price on Application)
Full Page £450.00
128mm x 185mm
Double Page Spread £600.00
154mm x 216mm (with bleed)
Please read our Terms & Conditions, you can contact us for further information
Editions
There are 6 editions a year, these are time released for the following periods:
Feb/March
April/May
June/July
Aug/Sept
Oct/Nov
Dec/Jan
What's On Magazine has gained a great reputation and is totally unrivalled as the number one What's On and Entertainment guide in the South West.
We offer a full comprehensive design service, all artwork is completed to the highest standard. All artwork is proofed and signed off prior to going to print. Supplied artwork is also welcome but please ensure all artwork is completed and delivered to us at 300 dpi, preferably with a 3mm bleed. We don't produce half or quarter page adverts.
A range of incentives are available for block bookings
A full range of incentives and discounts are available for block bookings, this can include editorial and advertorial features & photos. Every advertisement is also featured on our web site, and all our social media sites at no extra cost. We also offer a service where we can produce magazine's for your business whether you are a charity, music festival, or event of any kind, regardless of size or format. Please contact us for more information.
Distribution
What's On Magazine is available in Exeter, The South Hams, The English Riviera , Teignbridge, and all major towns and city's serving the West Country. What's On is distributed in over 200 outlets, including
Tourist Attractions
Live Music/ Entertainment Venues
Theatres
Leisure Centres
Retail and High Street Shops
Concert Halls
Restaurants, Café's, Art Centres
Tourist Information Centres
Shopping Centres
Public Houses
Nightclubs/Night-life
Train Stations
Health & Beauty and many more outlets
The circulation and readership is growing with every edition. What's On is now reaching over one hundred and sixty thousand readers per edition, which includes our on-line readership as well. Our circulation is completed to a very high standard and we make sure all the magazine's go to the end user. We take great pride in never having any returns.
Issues
This website has many back issues that can be downloaded or read on line, attracting thousands of regular visitors every month.
You can view the latest and past What's On editions here
Editorial
The magazine has a very healthy editorial content to appeal to all. The main features include all kinds of family attractions, exclusive interviews, live music, theatre, food & drink features, entertainment news, and the largest circulating What's On & Events guide.
Live Music, Theatre & What's On Events
The magazine is committed to working closely with the local live music/entertainment community. This includes all concerts, entertainment, and theatres in the South West. We circulate our theatre and live music listings along with our What's On guide to all other local media, including local newspapers and radio stations. We always go that extra mile to make sure that our advertisers and supporters get the best possible service, and the widest coverage to reach their target audience.
Recycling
What's On is 100% committed to being environmentally friendly. The magazine is printed on recycled Evolution Coated paper using environmentally friendly Soya based eco Inks. Any waist in the production of the magazine is recycled responsibly. We're also proud for the magazine to be printed using the FSC credit system.
What's On Publications
What's On Publications – a company owned by Jamie Sinclair is one of the longest time served media businesses in the West Country. It has experienced continued growth since the creation of "What's On Publications" back in 1996.
Our trading reputation is exemplary with our suppliers, clients, and readers. We always use local printers, suppliers, and always employ local staff. We have an excellent relationship with all our advertisers including international and local business owners, marketing companies, and some of the biggest theatre, live music, and event promoters in the world. Branding your business with us would be an excellent opportunity to be featured in a market where we have no credible competitors as an alternative. Due to our hard work and dedication, over nearly two decades, we have maintained our reputation as the Number One magazine of its kind since its creation.
We have nearly 20 years experience in marketing, company branding, and advertising. What's On Publications is the market leader in the West Country for events and lifestyle publishing, and has maintained its reputation for quality and consistency.
The Great Gorilla project Paignton Zoo 2013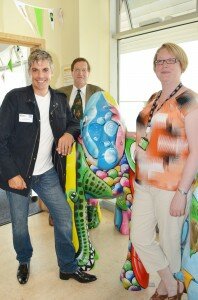 Pippa Cradock – Marketing Director, Paignton Zoo
Simon Knew – Executive Director, Paignton Zoo
Jamie Sinclair – What's On Publications